Name: Holly C. (Holly photo)
Location: Seattle, Washington
How long have you lived there?
I have been living in Seattle for a little over 2 and half years now!
If you moved from somewhere else, where did you move from? Why?
I grew up in Oregon (southwest of Portland & also Central Oregon) I even went to college in Oregon, too. After college I moved to Portland because all the cool kids were doing it & it was the most logical next step. Plus it didn't hurt that I had lined up a stint with the Portland Trail Blazers, my favorite professional team since childhood.
But I grew restless & I decided that I needed to get out of Oregon for a bit. I moved to Phoenix to work for the Phoenix Suns for a year & then I relocated back to Portland to work seasonally for the Trail Blazers, yet again. A job opportunity arose in Seattle that I wasn't going to pass on & two and a half years later here I am; enjoying life in the Emerald City.
Everyone has their idea of what they think Seattle weather is like. They think it rains ALL THE TIME here! It "kinda" does, but it's not
that
bad. I own an umbrella but I rarely use it. This time of the year we don't see much of the sun; it rains often with temps in the 50's usually. Around spring it tends to get a little bit nicer, up towards the 60's and the sun starts to make more of an appearance! In the summer it's a.m.a.z.i.n.g. here! We enjoy temps in the 80's with lots of sunny days & lots of outdoor activities to partake in. Soon after summer we get a transition into fall with very crisp air and somewhat cooler temperatures.
Seattle is nice because you get a mild version of the four seasons & because it's never really that hot here we don't experience the humidity, which is nice!
Tell us what a typical weekend is like for you there?
My weekends are different depending on the seasons here.
Summer:
I try to spend all my weekends outside, as much as possible. The great thing about weekends in the summer is that it stays light until about 10pm so you can have a late outdoor BBQ (my favorite part of Seattle summers, by far)! We also have an amazing lake, Greenlake! This lake has paddleboats, paddleboards, lots of grassy areas for picnics, volleyball & paved trails for running and biking!
Fall:
Weekends in the fall I am still trying to hold on to summer. I'm trying to extend my outdoor BBQ's until it gets too cold & dark… This is also the time that football starts up so we're attending football games, or meeting up with friends at bars to watch football games.
Winter:
My weekends are usually spent jumping from one indoor location to another indoor location because it is usually cold & damp. This is a great time of year to check out the Happy Hours all around town!
Spring:
If it is a weekend when the Seattle Mariners are in town, you can find me at Safeco Field!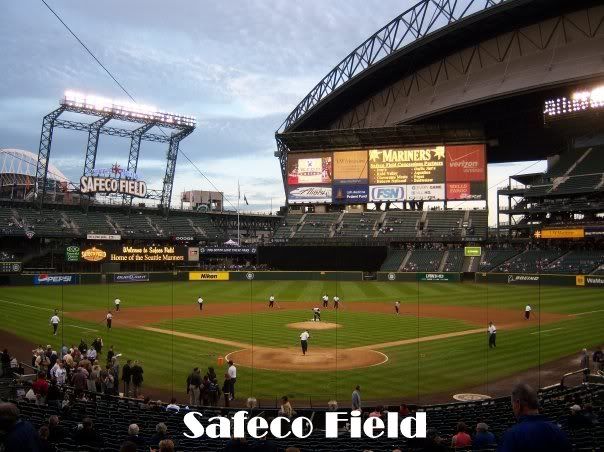 Where do you like to eat in your town?
The great thing about Seattle being on the Puget Sound and having decent access to the ocean for fishermen… we have a lot of fresh seafood here! My favorite places to eat are those that specialize in seafood! For this reason alone, I don't think that I could ever live somewhere that doesn't offer the freshest seafood available.
Although Seattle does have a lot of little good places tucked away.
Here are my top 10 favorite places to eat around town:
1.
Peso's (best hangover food)
2.
Cactus (best upscale Mexican food)
3.
Casa del Matador (best happy hour, Latin food)
4.
Anthony's (really, really good seafood)
5.
Salty's (best $40 brunch Sunday brunch! Haha)
6.
Ivar's Acres of Clams (classic
Seattle seafood joint)
7.
Thai Tom (best hole-in-the-wall, greasy Thai food)
8.
Purple Café & Wine Bar (best wine bar!)
9.
Slim's Last Chance Chili Shack (best dive for great chili)
10.
The Burger Counter (build your own AWESOME burgers)
Where do you like to shop?
I shop everywhere!
Seattle has all the major department stores that any other city would have & also some fun & quirky places, too!
There is a great shopping center near the University of Washington (cleverly called University Village). This shopping center has an
Anthropologie, H&M, Juicy Couture, Williams Sonoma
& a
Sephora
all on the same row of shops… My favorites!! My favorite trinket store in Seattle,
Fireworks
, is here, too. I can always find a clever gift for anyone here.
If you venture out into the neighborhoods you get the smaller, locally owned boutiques that feature one-of-a-kind items. I really wish I would visit these places more & help to support our local economy.
We have an Outlet Mall about 45 minutes north of the city, which is a great place to get discounted designer items.
Coach, Kate Spade, Burberry, J Crew, Juicy Couture, Nike
, etc. I've purchased a few Coach and Kate Spade items from here and very reasonable prices & I'm a very thrifty shopper!
Suggest some must see places for an out of town visitor.
Pike Place Market
is a good place to start. If you've never been to Seattle, it's a great place to check out! There are so much fresh vegetables, fruit, seafood, cheeses & flower arrangements! There are also a lot of handmade crafts & local artists displaying their work. It is the quintessential Seattle activity, plus you get excellent people watching here!
The
Space Needle
is also a good place to check out. Although it took me two years to finally go up to the top! At the base of the Space Needle you can walk around to a few different shops and arcades. It seems in the summer there are events going on every other weekend. There are street performers and family activities around every corner you turn. **Plus is you are a Starbuck fan, the original Starbucks coffee house is located here & there is always someone outside playing live street music. **
The Waterfront
. Although it can get somewhat crowded with tourists, it's a must-do if you've never been here. There are some great seafood restaurants and lots of cute little shops (all on different piers) up and down the waterfront. There is the Seattle Aquarium is also located here, a must-see if you have time! There are also water cruises on the Puget Sound. I've done this before and I highly recommend this to any visitor. You get a fabulous view of the city & some great information about the history of Seattle.
For a spectacular view of the city, visit
Gasworks Park
. This park is located on the northern tip of Lake Union and is home to my favorite view of the city! I used to come here in the summer on the weekends with a picnic lunch, enjoy the view, read a book and just relax for a bit in the sun. I suggest going both during the day and at night for two incredibly different views. How gorgeous is this place?
Tell us why you love your town:
I love that Seattle has so many cute & different neighborhoods here. There really is a neighborhood for every type of person! Each one has its own distinct personality. It's like each neighborhood is its own little town. I live in Queen Anne (the neighborhood that the Space Needle is in) and I love that there are so many unique restaurants and bars that are so close to my house.
Seattle is also very close to the mountains, close to the beach, close to Canada… There are so many destinations within just a few hours distance driving. Seattle is also such a beautiful city. From every angle you have an incredible view. You have a view of the water, the mountains, hills covered in eclectic homes, the skyline of the city. Some people complain about all the hills in this city, but if we didn't have them, we wouldn't have a chance to experience all the incredible views the city offers!
Anything else we should know about where you live?
If you want to come visit here, the best time is in the summer (in my opinion). There is so much going on all over the city June through August. There is some kind of festival going on about every weekend, outdoor concerts at the zoo, wineries & stadiums.
My favorite part of the summers in Seattle is the
Seattle Mariners
. They are the reason I moved here, after all. I work for the Seattle Mariners, so I get the pleasure of enjoying baseball games all summer long in Seattle.
Thank you Holly for letting us know what the locals do in Seattle!
fun fact, JB was drafted by the Seattle Mariners after college. So we're fans (:
If you'd like to tell us all about what you eat. drink. play. in your town, shoot me an email.